Can gestational exercise have a positive effect on cognitive functions resulting from brain injury? A rat study
Mustafa Dilek

Dept. of Pediatrics, Abant Izzet Baysal University, Faculty of Medicine, Bolu, Turkey

Hayriye Orallar

Abant Izzet Baysal University, Experimental Animal Application and Research Center, Bolu, Turkey

Gokce Bozat

Abant Izzet Baysal University, Experimental Animal Application and Research Center, Bolu, Turkey

Nimet Kabakus

Dept. of Pediatrics, Abant Izzet Baysal University, Faculty of Medicine, Bolu, Turkey

Ayhan Cetinkaya

Dept. of Physiology, Abant Izzet Baysal University, Faculty of Medicine, Bolu, Turkey

Gamze Dilek

Abant Izzet Baysal University, Izzet Baysal Physical Therapy and Rehabilitation Training and Research Hospital, Bolu, Turkey

Fatma Karakas

Abant Izzet Baysal University, Experimental Animal Application and Research Center, Bolu, Turkey

Mustafa Erkocoglu

Dept. of Pediatrics, Abant Izzet Baysal University, Faculty of Medicine, Bolu, Turkey

Ali Can Onal

Dept. of Pathology, Abant Izzet Baysal University, Training and Research Hospital, Bolu, Turkey

Fahri Yilmaz

Dept. of Pathology, Sakarya University, Faculty of Medicine, Sakarya, Turkey
Keywords:
Gestational exercise, cognitive functions, brain injury, neonatal, rat model, offspring
Abstract
Aim: The effects of gestational exercise on potential pathological conditions is not known yet.  Therefore, in the present study, it was aimed to evaluate the effects of forced running exercise on LPS-induced brain damage in pregnant rats.
Method: Pregnant females in the experimental group were forced to exercise 30 min daily for five days a week. Lipopolysaccharide (LPS) induced brain injury model was created by administering 500 µg/kg body weight of LPS on gestational days 18 and 19.   To evaluate injury histopathologically, brain tissues were fixed at the postnatal day seven through transcardial perfusion (n=4 pups/group). When the remaining pups reached 30-day of age, Morris water maze test (MWM) was performed to assess memory and learning, open filed (OP) and elevated plus maze (EPM) for testing anxiety, and Porsolt test (PT) for evaluating depression. The groups were defined as brain injury group (BI, n=13)
and exercise+brain injury group (E+BI, n=7). 
Results: The results obtained from MWM test indicated that animals found the platform in a shorter duration and distance at the day five compared to the day three. However, there was no significant difference between the groups. No significant difference was found in OP test regarding the distance traveled, time spent at the margins, movement at the center and the time spent as immobile. However, in the EPM test, the offspring at the BI group displayed higher mobility and increased number of entry to the open arms compared to the E+BI groups (p=0.01).  There was no significant difference regarding mobility duration and total distance traveled in the PT test.
Conclusion: In the present study, we tested the impact of gestational exercise using the brain injury model. The results of the EPM test suggests that the gestational exercise can suppress the stress factors in the pregnant females with brain injury leading to the prevention of hyperactivity-induced negative learning behavior.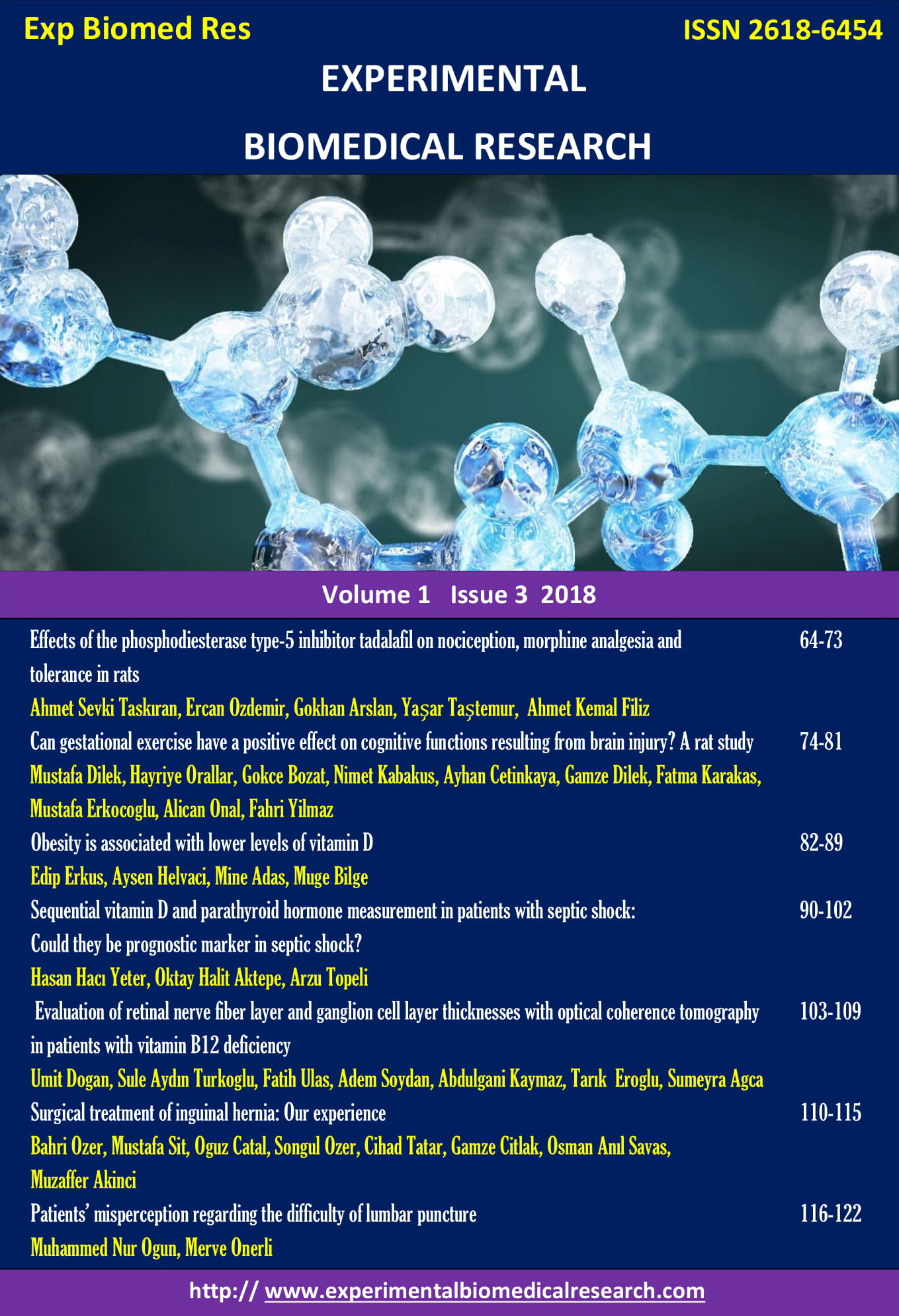 How to Cite
Dilek, M., Orallar, H., Bozat, G., Kabakus, N., Cetinkaya, A., Dilek, G., Karakas, F., Erkocoglu, M., Onal, A., & Yilmaz, F. (2018, May 7). Can gestational exercise have a positive effect on cognitive functions resulting from brain injury? A rat study. EXPERIMENTAL BIOMEDICAL RESEARCH, 1(3), 74-81. https://doi.org/https://doi.org/10.30714/j-ebr.2018339493
This work is licensed under a Creative Commons Attribution-NonCommercial 4.0 International License.
Experimental Biomedical Research journal is licensed under a Creative Commons Attribution-NonCommercial 4.0 International License.